Tips
Are Your Eyes Summer-Ready?
by Lens R Us Admin on May 01, 2021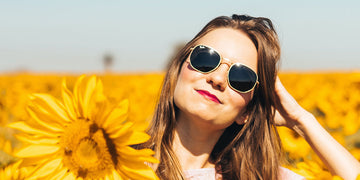 Have you found yourself going to the gym more regularly and eating healthier, in prep of that summer bod? Well let's not forget your most important feature: your eyes.
Here are a couple eye care tips to help you navigate this summer:
Let's prevent that "post-swimming-red-eye" look
Looking to hit the pools this summer? So are we! In order to keep that water looking crisp, clean and inviting, pools are doused with chemicals like chlorine. Chlorine can actually affect your natural tear film that protects your eyes that keeps them healthily moist. Without the use of swim goggles, your eyes will be left feeling gritty, red and blurry. Do yourself a favour and slip on a pair on during that pool day and splash your closed eyes with clean, fresh water after your swim. Your eyes will thank you.
Let's not mess with eye safety
Summer-time fun includes a lot more yard work activities. Don't forget your eyes while you mow that lawn! Always wear proper protective eyewear to save your eyes from flying grass, pollen, etc.
Let's protect our eyes from sunburn
Did you know your eyes could get sunburnt? Formerly known as photokeratitis, a painful condition caused by sunlight reflected off of water, sand or other highly reflective surfaces. Some symptoms could include pain, blurriness, redness and sometimes temporary vision loss. Sunglasses are the perfect solution to prevent your gorgeous blues (or browns, greens, hazels… you get the picture) from this uncomfortable condition just remember to pick one that is marked "100% UV protection". Thankfully, we've done all the work for you. All our sunglasses are 100% UV protected. So scroll through or come on in to pick up a pair :)