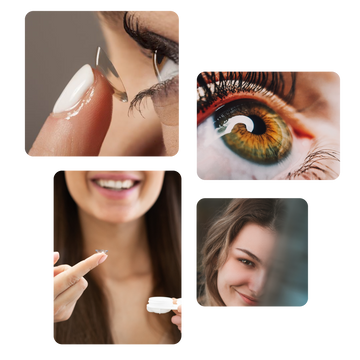 Contact Lens Fitting
Contact lens fitting is an essential step in ensuring the right fit, comfort, and optimal vision correction. Our experienced optometrists are here to guide you through the process and help you find the perfect contact lenses for your needs.
To ensure a smooth and efficient contact fitting at our locations, we request that you bring the following items with you:
Current eye prescription if available
Contact lens history if available
Insurance details
Book Contact Fitting
At Lens R Us, we are committed to providing you with exceptional contact lens fitting services to enhance your visual comfort and lifestyle. Here's an overview of a typical contact lens fitting at Lens R Us.
Comprehensive Eye Health Examination
Unless you already have an eye exam already done, our skilled optometrists will perform a thorough examination to assess your eye health and vision. This evaluation includes:
Vision Testing: Checking your visual acuity and prescription needs.
Eye Health Assessment: Examining the overall health of your eyes, including the cornea and surrounding structures.
Lifestyle Discussion: Understanding your daily activities, work requirements, and hobbies to determine the most suitable contact lens options.
Measurement of Eye Curvature
Accurate measurements of your eye curvature are crucial for finding the right contact lenses. This process involves:
Corneal Topography: Using advanced technology to map the shape of your cornea, ensuring precise lens fitting.
Determining Lens Parameters: Based on your eye measurements, our optometrists will select the appropriate lens diameter, base curve, and other specifications for optimal comfort and vision.
Trial Lens Fitting
To ensure the best fit and comfort, we will provide you with trial contact lenses to evaluate different options. This step involves:
Trying Different Lens Types: Exploring various lens materials, designs, and brands to find the most comfortable and suitable option for your eyes.
Assessing Vision and Comfort: Evaluating your vision clarity, comfort, and lens movement during this trial period.
Lens Prescription and Training
Once the ideal contact lenses are determined, our optometrists will finalize your lens prescription and provide you with the necessary training, including:
Lens Handling and Care: Detailed instructions on proper hygiene, lens insertion and removal, and maintenance techniques.
Follow-up Appointments: Scheduled to monitor your progress and make any necessary adjustments to ensure optimal comfort and vision correction.
Book Contact Fitting