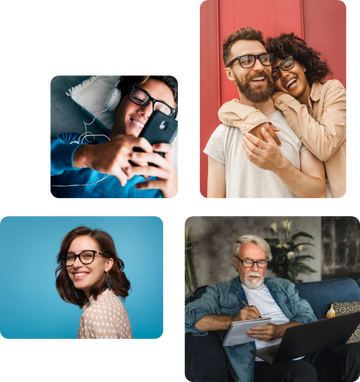 Eye Exams
Healthy vision is important for daily activities and overall well-being. Scheduling regular eye exams not only determine the ideal prescription for clear vision, but also identify any potential health issues in the early stages that could impact your eyes in the future.
When planning your visit to one of our locations, please bring the following with you for your eye examination:
Insurance information
Current glasses or contact lenses, if you wear them
List of any current medications
Any information you have about your family's ocular history
Book Eye Exam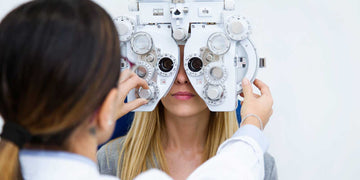 What to Expect During Your Eye Exam
Getting an eye exam is a relatively simple procedure, taking approximately half an hour to complete. If your eyes require dilation, your appointment could take about an hour. Here's an overview of a typical eye examination test at Lens R Us.
Medical History & Contact Information
Your eye exam will start with a comprehensive review of your medical history and current health. This will allow the doctor to fully understand your unique needs and concerns. Additionally, our team will work with you to verify your vision benefits to make sure you get the most out of your coverage.
Prescreening
Our comprehensive eye exam includes a prescreening process to determine your current prescription and establish a baseline. The doctor will also measure the shape of your cornea and eye, as well as take images of your retinas. We offer retinal imaging that does not require dilation, but please note that if you choose to visit one of our other locations, dilation may temporarily affect your vision and you may need a ride home.
Eye Exam
A routine eye exam consists of the following tests:
Eye Muscle Test - measures muscle control
Visual Acuity Test - measures your distances vision
Refraction Assessment - checks bending of light waves as they pass through your eye
Manual Visual Field Test - measures your sides vision
Colour Vision Test - checks for colour-blindness and other colour deficiencies
Slit-Lamp Examination - uses a microscope to examine your eyes closely
Retinal Examination - checks the structure of your retina
Glaucoma Screening - checks for excessive pressure within your eye
Payment & Future Planning
At Lens R Us, we understand the importance of accessible and affordable eye care. That's why we offer multiple payment options, including MSP options and direct billing to most Canadian insurance providers, as well as cash, debit and credit cards. We also recommend regular eye exams to ensure your vision is always at its best. Our dedicated team is here to assist you in scheduling your next appointment at your convenience.
Book Your Eye Exam Today